Maryland Kybella Injections
Improve Your Chin Profile with Kybella®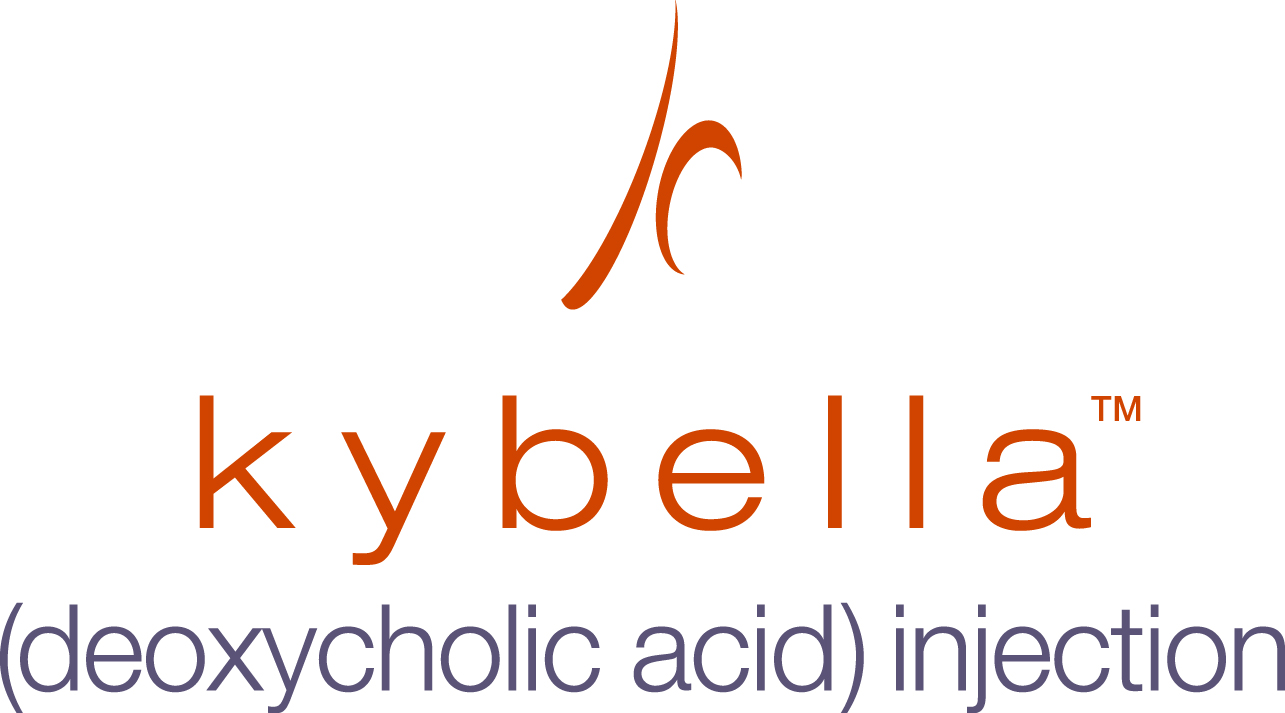 Whether you're naturally thin or could shed a few pounds, young or aging, fullness under the chin is a frustrating condition that can affect anyone. Genetics, aging, and lifestyle habits can all contribute to the appearance of a double chin—and this area is notoriously difficult to tone. If you're unhappy with your double chin, you're not alone: over 2/3 of consumers in the United States are concerned with submental fullness (fat under the chin).
Despite the large number of people concerned with their double chin, options for improving this area of the face have been limited in the past. To redefine the jawline, reduce excess fat, and improve the neck contour, patients only had invasive surgical procedures to choose from, such as liposuction or a neck lift. But if you're tired of feeling self-conscious about your double chin, there's good news: Kybella™.
What is Kybella?
Kybella is a new, minimally invasive injectable option for reducing fullness under the chin without surgery, anesthesia, or excessive downtime—and it is the first and only nonsurgical injectable treatment approved by the FDA to contour and improve the appearance of submental fullness. Kybella is largely composed of a non-human or animal formulation of deoxycholic acid, a naturally occurring molecule that helps your body absorb and break down fat.
When deoxycholic acid is injected into moderate to severe pockets of submental fat, it targets and destroys fat cells, effectively reducing fat and preventing the cells from accumulating or storing fat in the future. When expertly administered, Kybella does not impact surrounding tissues.
Pain-free Kybella injections with PRO-NOX™
While many non-surgical and minimally invasive treatments are tolerable to most patients, we want to make sure your experience is as relaxed and comfortable as possible. That's why we now offer PRO-NOX as an add-on option for your Kybella treatment.
What is PRO-NOX?
Have you ever heard of "laughing gas?" We typically think of the dentist when we hear nitrous oxide, but its ability to help ease discomfort and make you feel calmer can be a benefit in many situations—including your next cosmetic treatment at Plastic Surgery Services!
PRO-NOX is a self-administered nitrous oxide system that gives you control of your own comfort during treatment. Simply breathe through the mouthpiece when you need a bit of a relief, and the PRO-NOX system will deliver oxygen and nitrous oxide. You'll feel it take effect in a matter of seconds—and when you're done, it will wear off just as quickly. With no lasting effects, PRO-NOX is a great way to ease your pain and anxiety and then get back to your day.
Ask us about including PRO-NOX during your next appointment or contact us for more information!
Can Kybella Benefit You?
If you're bothered by your double chin, Kybella will likely provide you with great results. Generally, good candidates for Kybella meet the following criteria:
Would like to reduce moderate to severe fat under the chin.
Do not require extensive fat removal or reshaping to achieve optimal results.
Aren't quite ready for more invasive procedures & are interested in trying a nonsurgical alternative.
In general good health with no underlying medical conditions that may impact the safety or efficacy of Kybella.
It's important to consult with a knowledgeable, board certified plastic surgeon—they will listen to your concerns, evaluate your problem areas, and recommend the perfect course of treatment for you.
Your Kybella Treatment with Dr. Garazo
Once you and Dr. Garazo have met and determined that Kybella will provide you with your desired results, you'll be ready for your first treatment. Depending on your needs and satisfaction with your results after each treatment, you will have up to six Kybella treatment sessions spaced at least one month apart—though most of our patients are thrilled with their results after just two to four treatments.
Dr. Garazo performs all of his own injectable treatments and has successfully completed the physician training program for Kybella. These training programs are required to purchase and administer Kybella, which ensures your treatments are being performed by physicians who have experience and education in the safe and approved usage of Kybella. He has been performing facial injections for over 20 years and was fortunate to have been selected as one of the first Kybella injectors in the area.
Your Kybella treatment will be performed right here in the comfort of our office, and it should take no more than about 30 minutes. During your treatment, Dr. Garazo will carefully and precisely inject Kybella directly into your problem areas under the chin. The injections may sting slightly, though your treatment should be relatively comfortable.
You'll be happy to know that Kybella has very few side effects. After your treatment, you may experience some slight redness, swelling, bruising, and tenderness around the injection sites for the first few days, but these effects should be mild and will resolve quickly. You should see your results take form over the course of a few treatments.
See the Kybella Difference for Yourself
If you're interested in learning more about Kybella or finding out what options will best help you recontour your chin and upper neck, contact us to schedule a cosmetic consultation with Dr. Garazo. We'd love to help you explore your options!