medical-grade skin treatments
Medical Aesthetician Services in Hagerstown, MD
Medical Aesthetician Services at Plastic Surgery Services offers a diverse menu of options for treating a variety of concerns
Feeling confident and happy in your own skin is a wonderful feeling—and it's something we work hard to offer each patient that walks through our doors. Under the guidance of board certified plastic surgeon Dr. Henry Garazo, our Certified Medical Aesthetician Marissa Shalan can tailor a custom skin treatment plan designed to address your most pressing concerns and leave you glowing.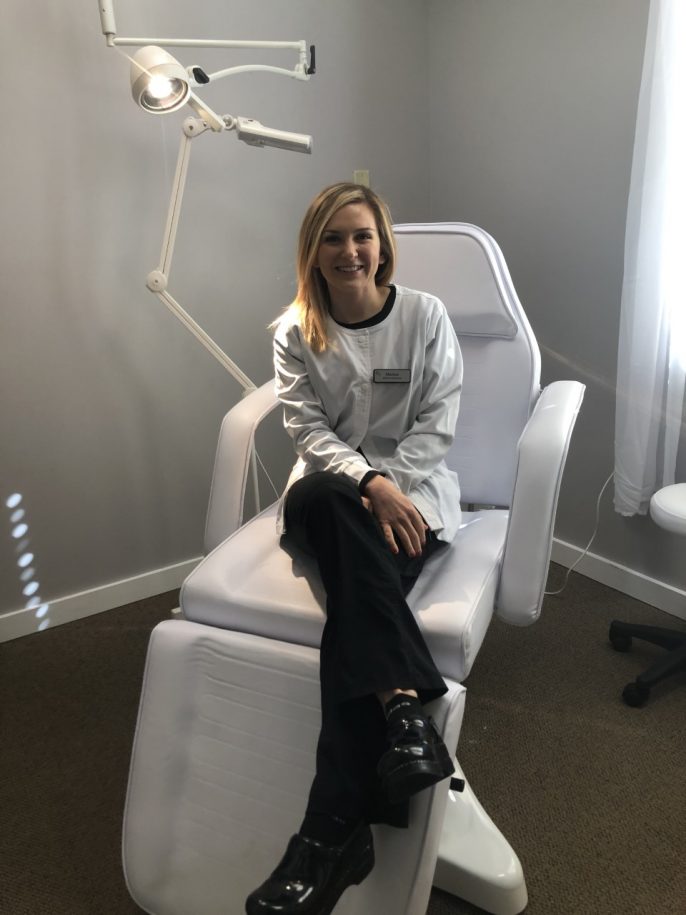 Your journey begins with a private consultation with Marissa, who will listen to your concerns, evaluate your skin, and make expert treatment and product recommendations. Whether you're starting to notice greater signs of aging, bothered by conditions like adult acne or rosacea, or simply want to support the health and beauty of your skin, Marissa's years of experience, a profound understanding of the structure and behavior of the skin, and access to advanced technology and products means you're in safe, capable hands.
Medical skin treatments at Plastic Surgery Services
HydraFacial MD
HydraFacial MD® is a multi-step skin resurfacing treatment that uses trademark Vortex Fusion® technology—a continuous jet of water that delivers antioxidant and corrective serums to your skin and flushes out impurities—to cleanse pores, exfoliate dull, damaged skin cells, treat specific skin concerns and improve overall skin health and appearance.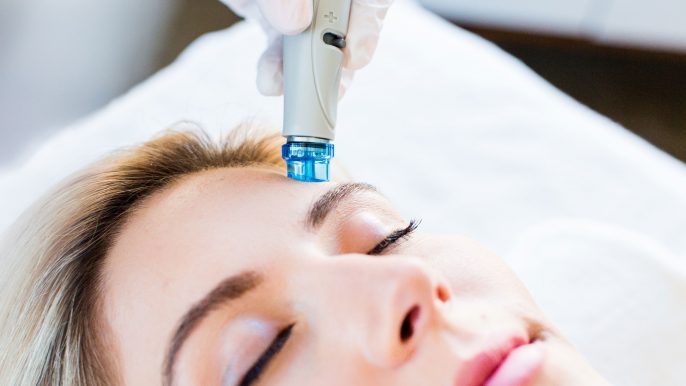 Here at Plastic Surgery Services, Marissa offers a variety of HydraFacial options:
Clarifying (Acne) HydraFacial: $230.00
The Clarifying HydraFacial treatment uses a high concentration of glycolic acid combined with blue-light therapy and high frequency to target bacteria and improve the appearance of oily or congested skin. The skin is deeply cleansed with a powerful, painless suction. Extractions and clarifying masque are included. Skin is radiant and clarified.
Rosacea HydraFacial: $225.00
The HydraFacial Rosacea treatment uses serums filled with antioxidants, peptides, and hyaluronic acid to boost hydration and protect skin from environmental damage, leaving it recharged, renewed, and invigorated. The red-light therapy and Rozatrol booster help to minimize redness and the appearance of blood vessels on the skin. Includes massage, healing masque, and red-light.
Brightening HydraFacial: $225.00
The Brightening HydraFacial treatment uses a combination of alpha-arbutin, vitamin C and bearberry extract to brighten and balance skin tone while minimizing the appearance of dark spots and sun damage. Includes massage, vitamin C masque, and red-light therapy and Britenol booster.
Restorative HydraFacial: $225.00
The Restorative HydraFacial treatment uses a combination of peptides and growth factors to boost production of collagen and elastin, treat inflammation, accelerate skin repair, and provide hydration. Includes massage, Anti-aging masque, and red-light therapy.
Hydrate Hydrafacial: $225.00
The Hydrate HydraFacial treatment uses a Hydration Booster filled with hyaluronic acid, glucan and betaine that will hydrate, repair, rejuvenate and protect your skin, while restoring plumpness, radiance and addressing the signs of aging. Includes massage and hydration masque to leave skin glowing and plump.
HydraFacial Perks
Your HydraFacial experience can be further personalized through the use of HydraFacial Perk treatments. These add-ons can help target specific concerns around the eyes and lips, and you'll be sent home with the extra product to maintain your results!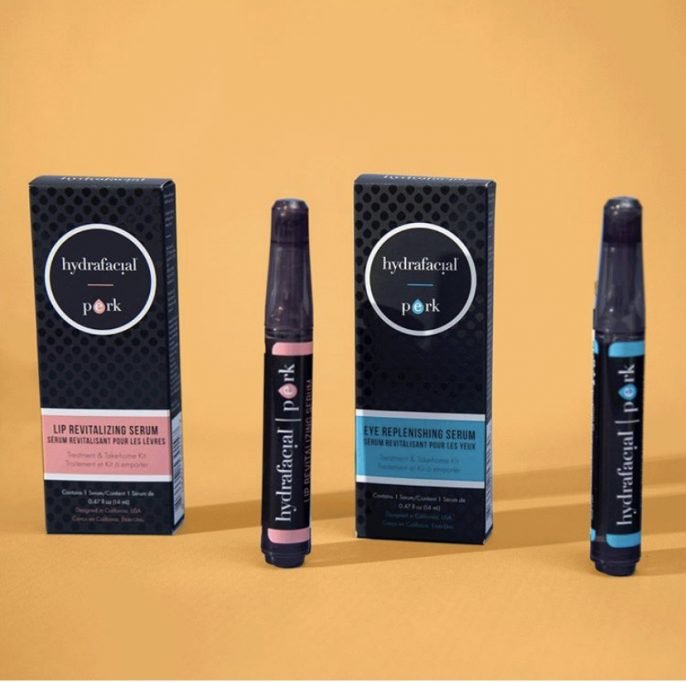 HydraFacial Lip Perk $35
Your lips have some of the thinnest skin on your entire body, making them especially prone to damage and dehydration. The HydraFacial Perk Lip treatment revitalizes your lips with key ingredients like peppermint oil and peony extract, leaving your lips refreshed, hydrated, and lightly plumped.
HydraFacial Eye Perk $35
The first signs of aging show up around the eyes where the skin is extremely delicate and prone to thinning, fine lines, and wrinkles. Eyes can also show signs of stress, lack of sleep, and poor diet.
The HydraFacial Eye Perk treatment brightens and refreshes your outer-eye area with key ingredients like horse chestnut seed extract and arnica flower extract, leaving this delicate area toned, firmed, and hydrated.
HydraFacial Lip & Eye Perk Combo $50
Combine The HydraFacial Lip treatment and HydraFacial Eye Perk treatment for full face refreshment.
HydaFacial Kervavive
Our go-to scalp health treatment for healthier and fuller-looking hair! HydraFacial Keravive is a unique, relaxing treatment designed to cleanse, exfoliate, nourish, and hydrate your scalp. A proprietary blend of biometric growth factors and skin proteins are infused into the scalp to promote healthy growth. Patients leave with a Keravive Scalp Health Take-Home Spray to enhance the benefits of the in-office treatment and
deliver daily nourishment for 30 days after treatment.
Dermaplaning (15 min.): $65.00
This exfoliating treatment is designed to give you soft, touchable skin with no downtime or discomfort. Think of dermaplaning as face-shaving but with a surgical-grade scalpel in the steady hand of a licensed aesthetician. In this chemical-free exfoliation, the blade is scraped over your skin surface to gently remove the dead surface cells and that little layer of peach-fuzz facial hair, leaving the skin ultra-smooth, fresh, and glowing.
Dermaplaning Facial (35 min.): $100.00
Dermaplaning plus HydroJelly Masque for a relaxing treatment and an extra glow.
Microneedling (75 min.): $300.00 – $700.00
Microneedling involves passing a sterile disposable needle cartridge, holding either 12 or 36 micro-needles, across the skin to mechanically induce a micro-injury to the desired depth chosen for your skin. Typically, a series of 3-6 microneedling treatments is recommended, depending upon your area of correction or concern. Treatments are usually spaced in 4-week intervals. Patients with deep wrinkles, advanced sun damage, stretch marks, or any type of scars usually require 6 or more treatments to achieve the desired results.
Microneedling options
Enhance your microneedling treatment with the inclusion of a topical product, including:
Hyaluronic Acid
Platelet Rich Plasma
Microdermabrasion (45 min.): $125.00
Microdermabrasion is a highly effective treatment that can achieve dramatic results. It softens fine lines, smooths the skin & decreases the appearance of scarring and pore size. Treatments involve a microdermabrasion machine, which removes dead skin cells and exfoliates the skin.
VI Peel
The VI Peel is a uniquely formulated chemical peel that provides painless treatment while still achieving noticeable improvements in skin texture and tone. A VI Peel is safe for any skin type and very little downtime is required. We offer a variety of VI Peel options to suit your needs.
VI Peel ORIGINAL for Tone and Texture: $375.00
Sensitive Skin
Early Signs of Aging (Ages 20+)
Rough Texture
Keratosis Pilaris
VI Peel ADVANCED for Enhanced Collagen Stimulation: $375.00
Aging Skin (Ages 40+)
Wrinkles
Fine Lines
Loss of Elasticity
VI Peel PURIFY for Active Acne and Oily Skin: $375.00
Active Acne
Breakout-Prone Skin
Oily and Congested Skin
Teen Acne
VI Peel PURIFY with PRECISION PLUS: $375.00
Excessive Oil
Acne with Hyperpigmentation
Acne Scarring
Adult Acne
VI Peel PRECISION PLUS for Skin Discoloration: $375.00
UV-Induced Pigmentation
Sun Damage
Melasma
Post-Inflammatory Hyperpigmentation (PIH)
Our expert medical team at Plastic Surgery Services has been providing patients in Hagerstown, MD; Frederick, MD; Gettysburg, PA, and surrounding areas with outstanding results for over 20 years.