"Words cannot begin to express my gratitude"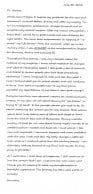 Patient Thank You
"Dr. Garazo:
Words cannot begin to express my gratitude for the care and treatment I received before, during and after my surgery. You are knowledgeable, professional, straightforward, and an exceptionally skilled surgeon. After my initial consultation, I knew that I would be in good hands and was choosing the right doctor. You have been instrumental in helping to "re-shape" my life forever! From the moment I woke up in the recovery room, I was AMAZED at the transformation (despite the bruising, drains and swelling).
Throughout this process, I was very realistic about the outcome of my surgeries. I knew what needed to be changed and what to reasonably expect. I did quite a bit of research and talked to several people who had these procedures performed. I never imagined I'd look and feel this good! I have recommended you to several people and will continue to do so. Your work is exceptional! To say that you've exceeded my expectations…it just doesn't seem good enough!
Everyone has their own personal reasons for choosing plastic surgery. In my eyes, it's not about striving for "perfection" or trying to "go back" to the younger person you used to be. It's about improving the woman you've now become. Most women spend their lives taking care of others and forget or don't have the time to take care of themselves. Having cosmetic surgery, at least for me, was about loving myself enough to do something that I needed and deserved. I must admit…I feel new and improved. I am much happier and more confident with the way I look and feel. My body changes a little bit each week as I continue going thru the healing process. I am definitely looking forward to my final end results. It's only going to get better!
As I write this, I shed tears of happiness. I still continue to love the woman that I am…I just love her even more now! Thank you for helping to make my transformation a beautiful experience! The journey has been well worth it already!"