3 Steps to Treating Melasma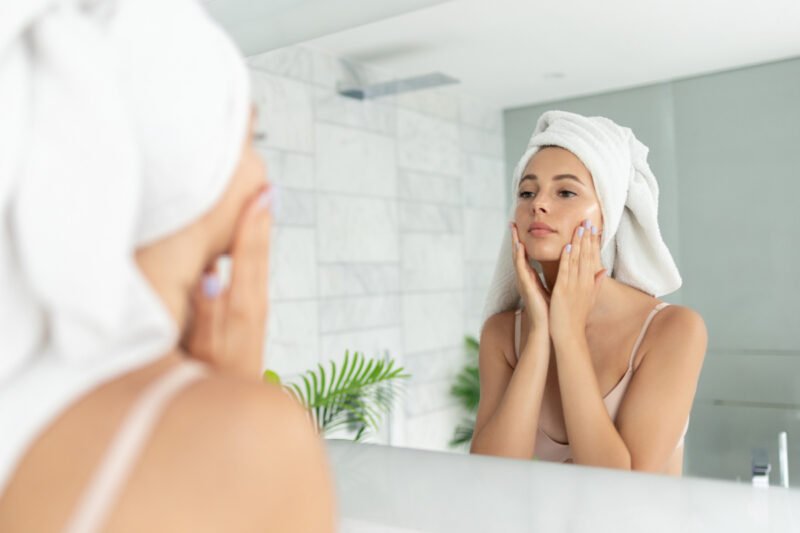 Melasma, or the "mask of pregnancy" looks how it sounds: blotchy, sometimes freckle-like dark pigmentation appears on your skin after a change in your hormones, i.e. from pregnancy or a medication change. While it is normal for skin to darken in the sun, melasma is more than just a tan gone awry: melasma is a form of hyperpigmentation in which the melanocytes in your skin produce more melanin than normal in response to UV exposure. And it can genuinely affect how you feel about your appearance.
Melasma should be treated topically with a combination approach: protect your skin from the sun, treat your skin with medical-grade facials, and enhance and maintain your results with active-ingredient skincare. Below, our Hagerstown aesthetician explains in detail.
1. Protect: Apply sunscreen every day
No matter your skin tone, unprotected sun exposure will darken your melasma. Even indoors, some UV rays reach your skin through windows. To prevent darkening and support the function of other treatments, apply a broad-spectrum sunscreen of SPF 30 minimum (SPF 50 is ideal) every single day. If you are outdoors in direct sunlight, set a reminder to re-apply your sunscreen every two hours, or more frequently if you are sweating or swimming.
Some research suggests that tinted sunscreens (which contain iron oxides for more aesthetically appealing application) may block more of the visible light spectrum, making them an optimal choice for melasma patients. Here at Plastic Surgery Services, we offer a range of highly effective formulas that apply smoothly and beautifully, so we can help you find your sunscreen soulmate right here in our office.
Tinted sunscreens may block more of the visible light spectrum, making them an optimal choice for melasma patients.
Remember that sun protection doesn't end with sunscreen! It's summertime, so there will be times when direct sun exposure is inevitable. Invest in a wide-brimmed hat you enjoy wearing and will be excited to reach for on the way out the door. Cover up with loose-fitting clothes, as well, and seek shade whenever you can.
Lastly, we want to note that tanning beds use UV light to darken your skin, so we advise you to avoid them like the plague! If you must have the look of a tan, talk to us about today's sophisticated self-tanning products.
2. Treat: Visit your aesthetician for regular professional facials
Our advanced chemical peel formulas, used on a regular basis, are incredibly effective at diminishing the appearance of melasma and other forms of hyperpigmentation. Chemical peels remove the damaged outer layers of skin, minimizing dark spots in the process. The peeling effects take place over several days following treatment.
Microneedling is another effective solution for a more even skin tone. It works by creating tiny micro-injuries in the skin surface, which prompts the body's healing response and floods the area with fresh cells.
With either a chemical peel or microneedling, results improve with repeat treatments—and multiple treatments are typically necessary to fade melasma. Be aware that even when you are using all of these techniques to reduce your melasma, results take time to develop. Have patience, and be sure to keep your follow-up appointments!
3. Maintain: Apply products at home to lighten and brighten the skin
To target melasma, you will need to adjust your skincare routine to include hydroquinone, a skin lightening cream available by prescription, and skincare products with certain active ingredients like retinol, which helps to slough off the outermost layers of skin to promote skin renewal and an even skin tone.
For example, certain patients may benefit from one of these combinations of physician-only skincare products that we offer:
SkinMedica Retinol Complex, paired with Lytera® 2.0 Pigment Correcting Serum
SkinCeuticals Retinol, Discoloration Defense serum, and Phloretin CF antioxidant treatment
When you visit us for your appointment, we will thoroughly evaluate your skin and give you a customized regimen recommendation.
Talk to your doctor about other interventions
In addition to the above steps, medications may need to be adjusted or other melasma triggers (like thyroid disease or even stress) may deserve you and your doctor's attention. Talk with your primary care provider or dermatologist about your medical history, medications, and lifestyle in order to cover all your bases as you treat melasma.
Visit Plastic Surgery Services for expert skincare advice & treatments
Dr. Henry F. Garazo and our licensed aesthetician Shelby are here to help you reach your goals for your appearance in the Hagerstown and Frederick areas. Dr. Garazo performs a range of plastic and dermatologic surgery procedures and injectables, while Shelby offers professional facials and medical-grade skincare services. Learn more or schedule your consultation today by calling 301-791-1800 or contacting us online.