Love Astrology? Find Out the Best Medspa Treatment for Your Zodiac Sign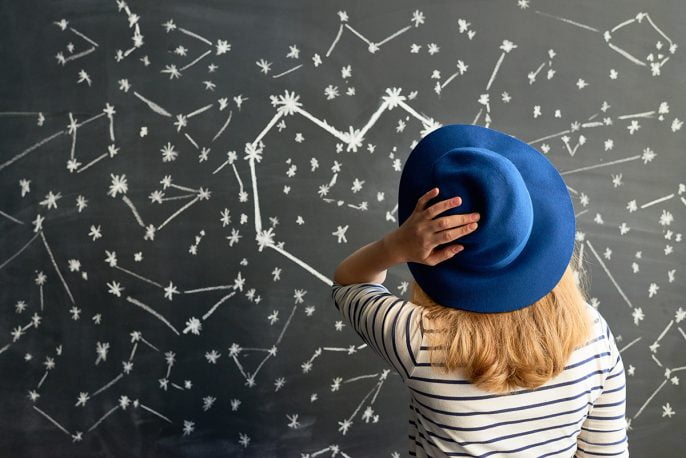 Customizing your life choices to your zodiac sign isn't exactly a new idea, but we've recently seen popular articles recommending everything from picking the perfect Scorpio lipstick shade to choosing a pet based on your rising sun. But could astrology help guide your choices when it comes to cosmetic medicine? The truth is, your skin's attributes, plus your specific concerns and overall goals, will be the main determining factors. Still, we thought it would be fun to see which treatment might best match your star sign.
Jump ahead to your sign:
Pisces (February 19 – March 20): HydraFacial MD
Your highly sensitive, kind, and gentle water sign is clearly a perfect match for HydraFacial MD. This soothing treatment is known for providing glowing skin via exfoliation, extraction, and infusion without the least bit of pain or downtime!
Like you, HydraFacial is also very adaptable—it can be personalized to infuse your skin with growth factors, antioxidants, and corrective serums to target specific concerns.
Aries (March 21 – April 19): Microdermabrasion
As a courageous Ram, you are no stranger to leaping before you look! While you might be a little rough around the edges, it doesn't mean you want your skin to show it. We therefore deem microdermabrasion as your procedure match. Whether you have sun damage, acne scars, rough skin patches, or simply want to tone down your wrinkles, microdermabrasion is a proven winner.
Taurus (April 20 – May 20): BOTOX
Tauruses love to relax in serene environments, so it's natural for us to pair your sign with a muscle relaxing treatment that will help you look like you haven't a care in the world: BOTOX.
Also known for their loyalty, we think Tauruses would stick with this well-known brand instead of flirting with one of the new alternatives. After all, BOTOX holds the title for the #1 treatment of all time and has been proven effective over millions of treatments.
Gemini (May 21-June 20): Fat Injections
Gemini, you are famous for having two sides, and that's why we think fat injections could be your perfect cosmetic treatment match. Fat injections are as chameleon-like as you are and start, paradoxically, with liposuction to remove pesky bulges from an unwanted location.
After that, your fat is purified and prepared for reinjection exactly where you need it, such as for plumping up the lips or filling out the mid-face. Just be sure you buckle down and focus when choosing a provider, Gemini: you'll only get beautiful results if you choose a plastic surgeon with excellent aesthetic abilities.
Cancer (June 21-July 22): Kybella
Cancers are all about avoiding direct conflict, so those with unwanted fat under the chin would be unlikely to attack the problem with liposuction. You're also the caregiver of the zodiac and wouldn't be likely to take time off for a procedure recovery. That's why we think Kybella could be your spirit procedure: a simple injection—that would barely pierce your protective Cancer shell—slowly eliminates a double chin over time.
Leo (July 23 – August 22): Microneedling
The celebrities of the zodiac, Leos are always ready for the red carpet. How is it you keep your skin looking so lovely? Why, with microneedling of course. This genius treatment boosts collagen and allows you to perfect your look without anyone guessing you had a little expert help. As a Leo, you also know that making a grand entrance doesn't stop with a lovely face, so feel free to apply this treatment to the décolletage, neck, forearms, and hands too.
Virgo (August 23 – September 22): Dermaplaning
Practical, present, and systematic, Virgos are also hyper-aware about details—and will surely not stand for a layer of dead skin cells covering up their glow. Thus Dermaplaning is your perfect astrological medspa treatment match: it methodically removes flaky skin, peach fuzz, and anything else that might be impeding the perfection of your look.
Libra (September 23 – October 22): VI Peel
Libras are well known for being aesthetes and connoisseurs, wanting the best in all things. You also have a natural love of balance (the scales are your sign's symbol, after all), so it stands to reason that you would want to even out your skin's tone and texture with a beautifying VI Peel. Moreover, the light but effective VI Peel has a very short recovery time, so you'll be able to return to your many social activities without missing a beat.
Scorpio (October 23 – November 21): VOLUMA XC
While Scorpios are thought of as being passionate, fiery types, Scorpio is actually one of the zodiac's water signs. Therefore we recommend a product that, like you, derives its power from water: Juvéderm's VOLUMA XC. This injectable formula's water-attracting hyaluronic acid molecules are uniquely structured to give it extra special cheek-plumping powers. (It's so strong that it offers results no facelift can match when it comes to restoring youthful volume to the cheeks.)
You'll also be glad to know treatment doesn't have to sting like a scorpion: VOLUMA XC is mixed with the anesthetic lidocaine for a virtually pain-free experience. (We also provide ProNox "laughing gas" during treatment to additionally calm your nerves!)
Sagittarius (November 22 – December 21): Juvéderm
Always up for adventure, adaptable Sagittarians are often on the go. You need a go-to procedure that is both versatile and lasting, making Juvéderm® your perfect match. Whether you want to fill lines, plump lips, lift the midface, or enhance your cheeks, the Juvéderm family of products has a formula that can do the job. Not only that, these hyaluronic acid gel-based injections are reversible—perfect for a personality that resents boundaries.
Capricorn (December 22 – January 19): Medium Depth Chemical Peel
You've been called ambitious, persistent, practical, and disciplined, but Capricorn's an Earth sign, so you are also grounded. Knowing the way you place trust in dependable options yet are driven to get results, we foresee a medium-depth chemical peel in your future.
While some might go in for a light peel and be satisfied with subtle improvements, we know you have your eyes on the prize: truly refreshed, younger-looking skin. With your discipline, you'll follow doctor's orders post peel and reap stellar rewards.
Aquarius (January 20 – February 18): Custom Facials
Aquarians are known as the visionaries of the zodiac, and you walk to the beat of your own drum. We therefore recommend heading to the medspa for a treatment that's completely original to you and can change with the seasons: a fully customized facial.
Your highly intellectual sign will enjoy collaborating with an aesthetician to analyze your skin's unique qualities and plan a perfect rejuvenating facial. You can request steps such as cleansing, extractions, a mask, finishing serums and more—at our office your custom facial can even be boosted with ultrasonic or germicidal technology.
Don't forget to also ask your aesthetician about what physician-only skincare products you could take home to maximize your benefits!
Now it's time for some personal recommendations
We've offered some versatile options that work for virtually any skin type here, but what's most important is your skin's unique qualities, so come to our Hagerstown office for a personal consultation. (While we love to talk about horoscopes for fun, we take your skin very seriously.)
Our expert team of aestheticians, led by Tri-State Best of Award Winner Dr. Henry Garazo, will listen to your concerns and help you find the best skincare solutions. Contact us to schedule your appointment.