Complete Your Mommy Makeover Transformation with Liposuction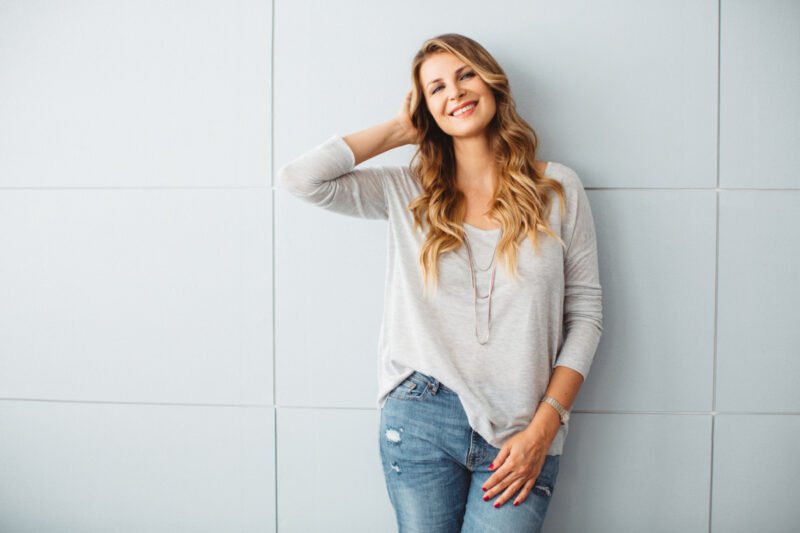 Ask a mother what she's most proud of in her life, and you'll hear about her children. She'll tell you about what they're learning and the funny things they say. What she may not tell you is that bearing those children left her with stubborn love handles, saggy breasts, and a tummy that refuses to flatten.
Today, women are more open about loving their children while also struggling with the bodies they're left with after pregnancy. And mommy makeovers are becoming increasingly popular as more women seek body reshaping after pregnancy. Below, we explain what a mommy makeover entails and how adding liposuction can provide fine-tuned results.
What makes a mommy makeover?
A mommy makeover may involve a variety of procedures and should be personalized for each patient to support their unique body goals. Your treatment plan can include any procedure, but a typical mommy makeover generally includes the following:
Tummy tuck
During a tummy tuck, excess skin and fat are removed from the abdomen, and the abdominal muscles are tightened. A new belly button will also be formed and repositioned higher up on your midsection for a completely natural appearance, resulting in an improved abdominal profile you will be proud to show off.
Depending upon the extent of the issues you want to address, Dr. Garazo can perform either a full tummy tuck or mini tummy tuck. A full tummy tuck addresses both your upper and lower abdomen, while the less invasive mini-tuck offers improvement to your lower abdomen only and leaves a slightly shorter scar. Tummy tuck scars fade nicely with proper care and are easily concealed with underwear or a swimsuit.
Breast lift
There are several mommy makeover options when it comes to breast surgery. Many women choose to have a breast lift, during which excess skin is removed, and the breasts are reshaped and repositioned to have a firm, youthful appearance. If you'd like, your nipple-areola complex, which includes your nipple and the pigmented area around it, can be resized for a more proportional aesthetic. A breast lift alone is a great option if you are happy with your breast size but want a more lifted, symmetrical breast appearance.
It's common to combine a breast lift with breast implants to both address excess tissues or sagging and add fullness to the breasts' shape.
Depending on factors such as the severity of drooping, skin elasticity, and breast size, a variety of breast lift methods can be used to achieve the desired results. During your personal breast lift consultation, Dr. Garazo will explore your breast lift options with you and help you determine which techniques and procedures will work best to achieve your goals.
Breast lift self-assessment
Your personal mommy makeover consultation will be the best option for determining if a breast lift will help you achieve optimal results, but this self-assessment may help you get an idea of what you may wish to include in your treatment plan:
Do your nipples point downward?
Does the portion of your breast above the nipple-areola complex (the breast upper pole) lack the fullness you desire, even when wearing a good bra?
Do your nipples fall below the natural crease under your breasts?
If your nipples do sit lower than (or close to) your breast crease and you're interested in breast implants, it's important to note that placing implants without addressing excess skin will likely exacerbate a droopy breast appearance. A combined breast augmentation with lift may be ideal in this case.
Breast augmentation
Breast augmentation is an excellent option for women looking to increase breast volume as part of their complete mommy makeover. Often, a lift is combined with an augmentation for a total breast rejuvenation.
There are a variety of breast augmentation factors that Dr. Garazo considers in order to personalize this procedure, including:
Breast size. Breast implants come in a wide range of sizes for ideal, customized results.
Implant type. Both saline and silicone breast implants are FDA-approved and have unique advantages to consider. (Dr. Garazo prefers Natrelle Gummy silicone breast implants)
Implant shape. Round implants are most commonly chosen to achieve greater upper pole fullness and cleavage.
Incision site. The most common incisions are periareolar (through the lower half of the areola) and inframammary (through the natural breast crease).
While breast augmentation is primarily known for increasing breast size, enlargement doesn't have to be your primary goal—the right breast implants can add proportion and balance to your entire body, improve symmetry, help correct defects like tuberous breasts, and provide a naturally beautiful shape.
Adding liposuction to mommy makeovers
Many women opt to add an additional surgery to their makeover—liposuction. Liposuction may address areas not included in a tummy tuck or breast surgery, or it may fine-tune the results of those procedures. Fat pockets in the thighs, hips, buttocks, abdomen, back and other problem areas can resist change, even with a healthy diet and exercise. During liposuction, unwanted fat cells are removed, resulting in targeted contouring and precise body sculpting.
Liposuction fine-tunes your mommy makeover with targeted fat contouring and precise body sculpting.
Liposuction is great for removing stubborn fat in targeted areas, but it may also help complete your mommy makeover. The gold standard for liposuction continues to be tumescent liposuction. This liposuction technique uses a diluted solution of local anesthetic and other medications to remove fat in target areas. Although local anesthetic is used, tumescent liposuction is often performed under general anesthesia in the safety of a certified ambulatory surgery center with a board-certified anesthesiologist.
Curious to learn more? We invite you to visit us for a consultation to discuss which procedures can best help you reach the goals you have for your mommy makeover. Ideal candidates for a mommy makeover are healthy women who don't smoke and are finished having children. If you're considering a makeover but intend to lose weight, it's best to do so before undergoing surgery.
Board-certified Frederick plastic surgeon Dr. Henry Garazo at Plastic Surgery Services has served patients in the greater Maryland area for over 20 years. Named "Best Plastic Surgeon" in the tri-state area by The Herald-Mail's Community's Choice Awards for 4 consecutive years, Dr. Garazo specializes in a range of treatments and procedures in addition to breast and body contouring, including facelift, facial fat transfer, Botox®, and fillers. To schedule your personal consultation with Dr. Garazo, contact us online or call our practice at (301) 791-1800.