Where to Shop, Eat, and Drink in Frederick, Maryland This Spring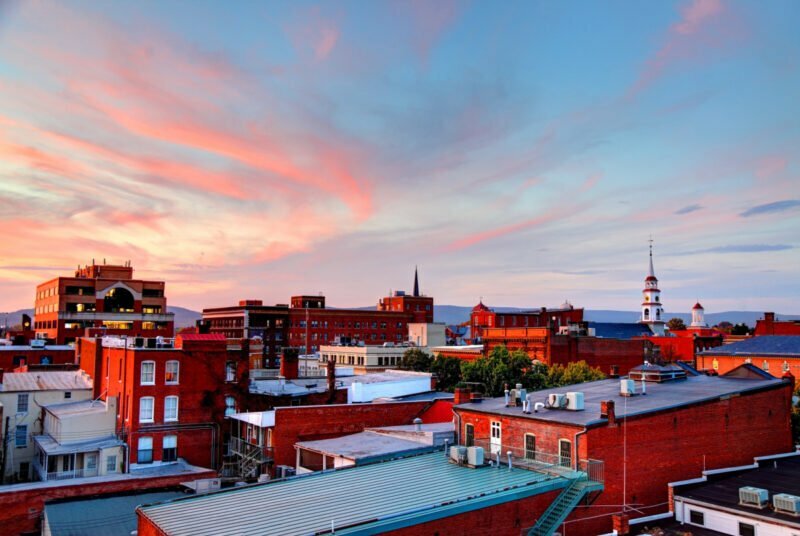 The weather's changing, spring flowers are in bloom, and many of us are ready to get out and visit local businesses. Luckily, there is no shortage of amazing neighbors whose shops and restaurants have something unique to offer, allowing us to support our community while enjoying ourselves.
Whether you're redecorating, working on your post-pandemic wardrobe, shopping for gifts, or just looking to relax and enjoy a good meal, there's a local business in Frederick that's got you covered. Here are some of our favorites.
1. Velvet Lounge Boutique
Located on Market St. in charming downtown Frederick, there's no better shopping experience than the one you will have at Velvet Lounge. From the gorgeously designed, ever-rotating window displays to the staff tailor who will measure you for the perfect-fitting jeans (and hem them for free), you're going to leave feeling as cute and fresh as a spring flower. Their selection makes it easy to pull together fashionable pieces for a figure-flattering and confidence-boosting look.
2. Relish Decor
Shopping online for home goods, it can be hard to find pieces that fit your taste while contributing something unique to your space. Shop Relish Decor's well-curated selection once, and you will always know where to go for kitchen items, rugs, glassware, and many more items to make a room pop. Whether you're looking for trendy statement pieces or a timeless set of glasses, you'll find something elegant. They specialize in kitchen furnishings, tabletop housewares, and gifts—and their shop is wedding registry gold.
3. Tasting Room
Treat yourself (or your SO) to a night out at the Tasting Room. This classic Frederick restaurant is therapy in the form of fine dining. The menu offers luxury to suit many tastes, whether dinner or brunch, steak or fried green tomatoes, cocktails or wine.
View this post on Instagram
4. White Rabbit
Want a good beer that's worth talking about? The servers at White Rabbit know their stuff, and talking with them about how the beer is brewed makes it taste 100% better. Not only will you enjoy a diverse selection of draft beer from many different breweries, their long menu is full of the most crave-able foods—chicken and waffles pizza, anyone?
5. Thatcher and Rye
For an elevated meal served in a cozy atmosphere, visit Thatcher and Rye, a go-to for weeknight treats and special occasions alike. Enjoy an extensive drink menu with diverse liquor options, plus a food menu with classic seafood, pasta, and meat dishes, each with a unique twist inspired by local and seasonal ingredients.
6. Treaty General Store
For essential clothing and accessories, plus ethically-sourced homewares and luxury items, take a trip to Treaty General Store. They update the general store model by carrying high-end essentials, like plain T-shirts, artisan-made bandanas, and good-smelling grooming products. You'll also find patterned yoga mats, "ritual kits" for slowing down, and much more.
7. LifeCYCLE Studio
Ready to actually have fun exercising and take your workouts local? Fitness becomes not a hassle, but a part of your everyday life when you join LifeCYCLE Studio indoor cycling. This studio breaks the mold of the traditional gym: it's a community where working out is never about competition or shame, and accountability comes naturally. There are numerous package options (including one class at a time) to fit many budgets and fitness goals.
View this post on Instagram
8. DNa Lab Organic Hair Chemistry
With hair as with skin, health equals beauty! That's why we love the philosophy of DNa Lab Organic Hair Chemistry, a Frederick salon where all products are sustainable and non-toxic. Chemicals in hair products can be irritants, and many are simply not sustainable. Their salon compromises nothing in terms of beauty, all the while keeping you and the planet healthy.
9. Breweries: Attaboy, Idiom, Rockwell, & Brewer's Alley
When it comes to breweries, we can't pick just one! Here are all the Frederick breweries we love to visit, and a little taste of what each has to offer:
10. Smooch!Studio
Smooch!Studio is a true Frederick gem. At this local salon dedicated to makeup, you'll be pampered by the pros, and your desired look—matte or glossy, natural or made-up—will be taken seriously as they customize your regimen with personalized shades and ingredients. Their custom foundations are full of nutritious botanicals, so your makeup routine supports your skin health. (Yes, they'll also do your face for events!) We can't wait to try their just-launched luxe bath product line. What's better than locally-made, scrumptiously-scented bath bombs?
View this post on Instagram
Looking for an aesthetic enhancement? Plastic Surgery Services will treat you like a VIP.
Board-certified plastic surgeon Dr. Henry F. Garazo has served patients in the Frederick, Hagerstown, and surrounding areas for over 20 years. At Plastic Surgery Services, Dr. Garazo performs injectables and offers a full range of cosmetic surgical procedures, while our aesthetician provides medical-grade skin treatments and facials. Whether you come to us for a facial, BOTOX®, or a surgical procedure, we will make sure you feel like a VIP. To learn more and schedule a consultation, call (301) 791-1800 or contact us online today.