Here's How Often You Need To Touch-Up Your Non-Surgical Procedures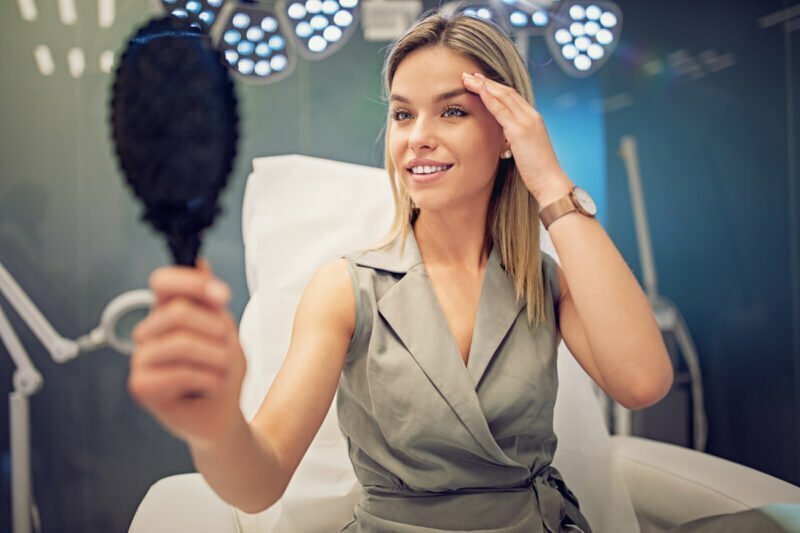 Non-surgical aesthetic treatments like Botox, dermal fillers, facials, microneedling, and chemical peels provide Hagerstown and Frederick patients with an effective alternative to more invasive facial procedures. These treatments allow patients to "try out" some of the effects of a facelift without the commitment, downtime, or price, or to complement the results of facial surgery.
Since non-surgical procedures provide temporary results, treatments must be repeated regularly in order to maintain their effects. In this month's post, we answer the frequently asked question, "How often do I need to touch up my non-surgical procedures?"
How often should I touch up BOTOX?
Botox® is a neuromodulator that, when injected, allows certain facial muscles to relax, temporarily reducing the appearance of lines and wrinkles. It is most commonly used to treat forehead lines, crow's feet, and frown lines. When used strategically and sparingly, Botox treatments can help achieve a more refreshed and youthful appearance. Botox is often used to complement facial rejuvenation procedures, such as a facelift, as well as non-surgical treatments, like dermal fillers and microneedling.
You should notice your muscles begin to relax immediately after your Botox treatment, but it usually takes 3-5 days for your targeted wrinkles to fully soften. The effects typically last 4-6 months, therefore we recommend patients receive Botox treatments every 3-4 months to maintain their results. Some of our patients find they are satisfied with injections every 6 months. How frequently you choose to undergo Botox treatments will depend on the severity of your lines and wrinkles as well as your aesthetic goals.
Botox-like injections
At Plastic Surgery Services in Hagerstown, Maryland, we offer Botox and other Botox-like injections, including Jeuveau® and Dysport®. Jeuveau and Dysport are also neuromodulators, using the same mechanism of action as Botox to diminish the appearance of lines and wrinkles; however, because they are formulated differently, Botox, Jeuveau, and Dysport vary slightly in dosage, how much they spread once injected, and how quickly they provide results. At Plastic Surgery Services, Frederick plastic surgeon Dr. Garazo, will be happy to discuss which neuromodulator injection is right for you during a personal consultation.
How often should I touch up dermal fillers?
Dermal fillers are gel-like substances that are injected under the skin to temporarily restore lost volume, soften static lines and wrinkles (those visible when the face is at rest), and lift sagging tissues in the face and neck. Fillers are also used by skilled plastic surgeons to shape the face, temporarily mimicking the effects of facial rejuvenation procedures. For example, fillers can be used to volumize the cheekbones, jaw, and chin to make the face appear slimmer and more contoured, or to correct the appearance of a nasal dorsal hump.
On average, hyaluronic acid fillers such as Juvéderm® and Restylane® last for 6-12 months before naturally integrating into the body. We recommend patients get touch-up filler injections every 6-9 months to maintain full results, though some patients are happy with filler treatments every 9-12 months.
How often should I touch up microneedling?
Microneedling uses dozens of tiny needles to create "micro-wounds" in your skin to encourage collagen production, resulting in smoother, tighter skin and a more even complexion. Microneedling can be used on the face and body, and is especially effective at improving acne scars, hyperpigmentation, stretch marks, and sun damage.
We use the Eclipse MicroPen® at our Hagerstown practice because it is faster and more comfortable than other microneedling devices and provides predictable, consistent results. While most of our patients find microneedling treatments to be completely tolerable (and well worth the results), we offer PRO-NOX™ as an add-on option to make your microneedling treatment even more comfortable. PRO-NOX is a self-administered nitrous oxide system that provides instant relief from any pain or discomfort; simply breathe through the mouthpiece when you need a bit of relief.
While you're likely to notice benefits from microneedling after a single treatment, we recommend patients undergo a series of 3-6 treatments spaced 4-6 weeks apart to keep their skin looking youthful and vibrant. After this initial treatment period, your aesthetician may recommend you come in for microneedling maintenance treatments every couple of months.
How often should I touch up facials?
A facial is a set of skincare treatments designed to exfoliate and nourish the skin of the face and neck. Facials are intended to be regular maintenance treatments, like getting your teeth cleaned or your hair cut. Used regularly, they will improve the appearance and health of your skin. While a single facial can provide some immediate improvement in your skin's appearance, the results will fade if you don't follow up with maintenance treatments.
Since our skin cells die and regrow roughly every 30-40 days (a process known as the skin turnover cycle), most aestheticians agree that one month is the perfect time to wait in-between facials. A monthly check-in with your aesthetician will also help you stay on top of any abnormal changes to your skin caused by seasonal or lifestyle changes. (Your skin is often the first place you'll notice these changes.) If you suffer from exceptionally oily or dry skin, your aesthetician may recommend more or fewer treatments, but you should always consult with him or her before having more than one facial a month.
Take your facial to the next level with HydraFacial MD
We use HydraFacial MD® for our facials because it is a gentle yet extremely effective treatment that can benefit all skin types. HydraFacials work by applying a continuous jet of water to your face to cleanse pores and exfoliate dull, damaged skin cells. Using a combination of antioxidants, acids, vitamins, growth serums, and/or peptides, we are able to customize each HydraFacial to address our patient's specific skin concerns, such as dry/oily skin, rosacea, acne, lines and wrinkles, or a dull complexion.
After your facial, we will recommend medical-grade skincare products you can apply at home to enhance your results. (Keep in mind that an at-home skincare regimen should be used to complement—not replace—a professional facial.) We will also apply a high-quality sunscreen to your face afterward to help protect your results.
How often should I touch up chemical peels?
Chemical peels can help revive dull, damaged skin by evening out skin tone, diminishing dark spots, and fading fine lines. After a chemical peel, your skin should look and feel more youthful and refreshed.
Since chemical peels are divided into 3 different levels, how often you receive them will depend on your peel:
Light peels
Light peels penetrate your skin's superficial layer. They are ideal for those who want to address fine lines, improve the appearance of acne scars, and balance skin tone. Light peels can be enjoyed every few weeks to once a month.
Medium peels
Medium peels penetrate your uppermost layer of skin, just below its surface. They can treat deeper lines and wrinkles and more prominent facial scars. Medium peels can be enjoyed every 4 to 6 months.
Deep peels
Deep peels are the most intense type of peel. They penetrate your deep dermis to improve more advanced wrinkles and folds, scar tissue, and discoloration. Deep chemical peels usually have a few weeks of associated downtime. Because your face will continue to be sensitive for months after treatment, you should only get a deep peel once every couple of years. It is critical you wear a high-SPF sunscreen after getting any chemical peel; this is especially true for deep peels, as your skin will be ultra-sensitive to UV rays.
Touch up or maintain your non-surgical treatments with Hagerstown's Dr. Garazo
Board certified plastic surgeon Dr. Henry F. Garazo performs all Botox and dermal filler injections himself in the safety and comfort of our Hagerstown/Frederick plastic surgery office. Our non-surgical skincare treatments, including microneedling, chemical peels, and facials, are performed by our Certified Medical Aesthetician, Caili under the direction of Dr. Garazo. Schedule your consultation with Dr. Garazo online or call ​​(301) 791-1800 today.