These Top Skin Treatments Aren't Just for Your Face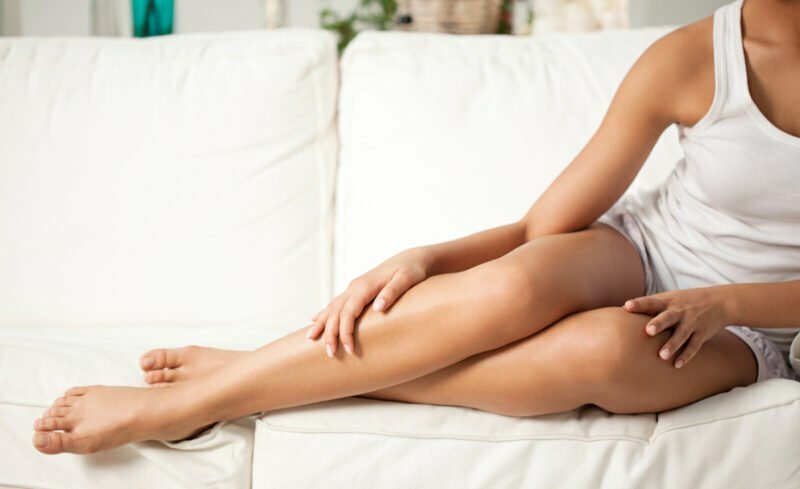 We offer amazing treatments that can address all the skin problems you have, and we don't just mean on your face! Patients also visit us to improve the appearance of areas like their neck, back, or stomach, where issues like crepe-like skin, acne, stretch marks, and scars often mar the appearance of smooth skin. The good news is all of these issues can benefit from non-surgical skin treatments, no matter where they are on your body.
Here are 3 of our aesthetician's favorite skin treatments to give our Plastic Surgery Services patients a glowing, smooth complexion from head to toe.
1. VI Peel for hyperpigmentation & acne throughout the body
Freckles, sun spots, scaly skin, age spots, and hyperpigmentation are common frustrations—especially in areas that are prone to sun damage, like the arms, hands, and chest.
With the VI Peel, we can achieve a significant improvement in ALL of these concerns, anywhere on the body. The VI Peel is commonly used (in addition to the face) in these areas:
Décolletage
Back
Backs of hands
Arms
Legs
How treatment works: Chemical peels use skin-safe acids that gently dissolve the top layers of dull, dry skin, leaving skin softer and healthier and promoting healthy cell turnover. Many "resurfacing" lotions use small amounts of these acids to promote cell turnover, but a peel treatment is much more powerful—and the results of treatments simply can't be matched with at-home skincare.
Use VI Peel in the décolletage, hands, arms, and back to erase sun spots and even the appearance of hyperpigmentation.
What you should know: Depending on the depth of your treatment, you will likely have little to no downtime. It will take up to 7 days after your chemical peel to see full results, as the outermost layers of your skin give way to fresh, bright skin.
2. Microneedling for smooth, blemish-free skin
The results of microneedling rival many laser skin treatments, but do not require any downtime. This procedure rejuvenates "dull" skin, universally improving its appearance and erasing blemishes of all kinds, making it the go-to choice for a myriad of skin issues that can affect the face or body.
How treatment works: Microneedling involves passing microscopic, hair-like needles over the skin to create very small micro-injuries in the skin's surface. These tiny openings signal the body to treat the skin like a wound, "healing" the area with fresh new cells and revealing a smoother complexion. We may also include a topical product in your microneedling treatment to target your concern.
When it comes to the body, there are numerous surprising uses for microneedling to treat scarring, aging, and sun damage:
Minimize acne scarring on the back and shoulders
Reduce the appearance of scars, i.e. from accidents or surgery
Smooth wrinkles and fine lines in the chest
Minimize darks spot and hyperpigmentation
Reducing the appearance of stretch marks on areas like the legs, chest, stomach, and buttocks
Improve skin's thickness and elasticity, i.e. in the stomach
Revive crepe-like, aging skin
Beautify the hands
What you should know: Depending on the results you want, you may need a series of about 3 to 6 microneedling treatments. Results improve gradually after treatment, as your body continues to rebuild collagen in the treatment area.
Combine microneedling + VI Peel for synergistic rejuvenation
Get the synergistic effects of two treatments by combining the VI Peel with microneedling. Used in the same area, the effects of each treatment enhance the other by treating your concerns through two different modalities.
3. HydraFacial™ KeraVive™ for a healthy scalp & full hair
Are you itching to exfoliate—really exfoliate—your scalp? Dry skin, product buildup, clogged follicles, dead skin cells, itchiness, and lack of circulation can lead to poor scalp health and even make your hair look thin.
HydraFacial Keravive is a relaxing treatment that uses the same Vortex-Fusion technology as the HydraFacial MD to exfoliate, hydrate, and infuse the scalp. By removing buildup and stimulating the scalp, Keravive helps you to achieve your healthiest, fullest hair.
How treatment works: During Keravive treatment, we exfoliate and cleanse away dead skin cells and product buildup. Then, we apply a blend of peptides and growth factors directly to the scalp. Your hair will grow healthier with no downtime—you will just have to wait until the next day to wash your hair in order to allow the serum to sink in.
Already taking hair growth medications, applying topicals, or undergoing hair transplant surgery? HydraFacial Keravive can complement and enhance your results, and it's safe to combine with most other therapies.
What you should know: For best results, we recommend a series of 3 monthly in-office treatments. Patients leave each treatment with a Keravive Scalp Health Take-Home Spray to enhance the benefits of the in-office treatment and deliver daily nourishment for 30 days after treatment.
THIS MONTH ONLY: Your 3-treatment series of HydraFacial Keravive is just $1500! Offer expires 6/30/2021. Learn more »
Love your results? Extend and protect your glow with medical-grade body care.
If you love the way your skin looks, you want to make sure your routine at home extends, enhances, and protects your results. Luckily, you can give your body the same medical-grade skin care love you give your face! We have products that can smooth a bumpy skin texture, help to improve skin quality in the neck, soak your skin in antioxidants to protect it from environmental factors, and more:
Body Retexturing Treatment: Re-texturize dry, rough body skin with this advanced resurfacing gel that both exfoliates and hydrates.
Body Tightening Concentrate: Enhance the feeling of skin firmness with this treatment that provides a cooling sensation on contact.
Tripeptide-R Neck Repair: Address early signs of visible neck aging and reduce the appearance of horizontal neck lines and neck skin crepiness with this corrective treatment.
Youth Body Serum: Protect your skin from environmental aggressors (and enjoy refreshing hydration) with this lightweight serum mist.
THIS MONTH ONLY: ALL body products are 15% off! Offer expires 6/30/2021. Learn more »
Visit Plastic Surgery Services in Hagerstown, MD for all your aesthetic needs
At Plastic Surgery Services, our highly-qualified staff offer a full range of non-surgical skin treatments to get you beautiful results safely. To schedule your treatment with our medical aesthetician Marissa, call 301-791-1800 or contact us online.