Washington County Wedding Businesses To Help Nail Your Bridal Look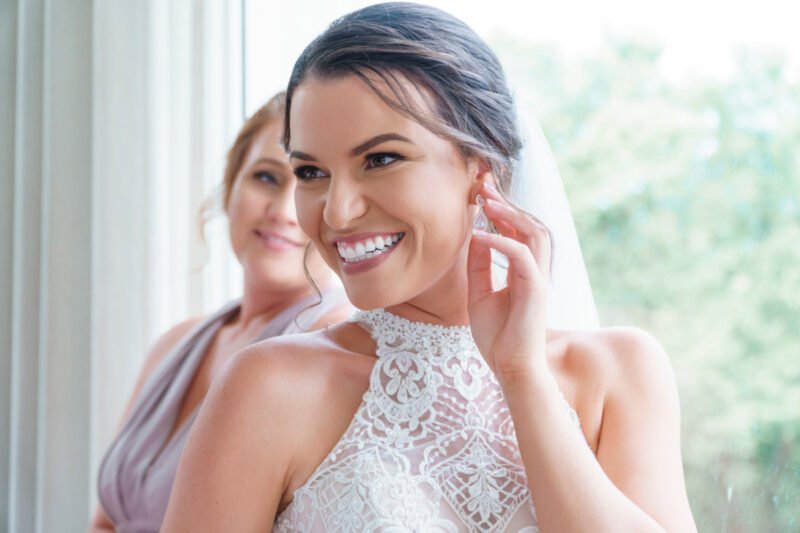 With wedding season right around the corner, brides all over Maryland, from Hagerstown to Frederick and beyond, are making their lists and checking them twice. While it may be tempting to DIY, shop online, or head to a big-box chain store for your bridal needs, we encourage you to work with a locally-owned boutique, vendor or service provider. These small businesses are the heart and soul of our community, after all.
Local industry professionals truly care more about you and your wedding! They know looking absolutely gorgeous on your big day matters, and will take great pride in helping you achieve the bridal aesthetics of your dreams. You'll not only enjoy a more personalized shopping experience, but you'll also get access to the most unique and one-of-a-kind selections.
We know that looking radiant on your special day takes a lot of work and planning. To help you avoid any last-minute beauty fiascos, it's important to be mindful of your timeline. If you're getting married in peak season, know that bridal services can book up 12 to 18 months ahead of time, so if a certain component is particularly important to your "dream look" it's best to make a commitment as soon as you can. Below, we've included our recommended timelines so you can make sure to get it all scheduled correctly on your calendar!
Get ready to feel flawless and look picture-perfect from head to toe on your big day, and for years to come (Hello, bridal portraits!). Reserve an appointment today with any of these fabulous small businesses to see the magic they can create for you.
The Dress
Finding your perfect dress can be stressful and overwhelming—but it doesn't have to be. The perfect gown to suit your physique and personality awaits at a high-end bridal boutique such as Posh Bridal in Frederick. The experts here can help you find a timeless yet personal style to help you shine not only on the big day, but for years to come.
Nearly all gowns will require some alterations to fit you perfectly. The most common alterations include hemming to adjust the length, adding a bustle or other detailing, adjusting the straps or sleeves, and either taking the dress in, or out, for the closest possible fit. A professional seamstress or tailor such as Alterations by Dawn have proven experience with wedding dress alterations.
Timing tip: Most designer dresses take approximately four to six months to order, followed by one to three months for tailoring and alterations. We suggest shopping at a wedding boutique beginning 9-12 months in advance of your nuptials to allow for a stress-free search and necessary dress fittings leading up to the big day.
The Bling
With the right necklaces, earrings, and ring to complement your wedding dress, you'll have a stunning ensemble for your special day. Your wedding jewelry should act as an accent to your wedding dress and highlight it in scale, adding color and contrast, while also being unique and personal to you. An established and trusted jeweler such as Colonial Jewelers specializes in quality pieces that will make you shine!
Timing tip: Going custom? You may need up to a year to plan your dream piece in collaboration with a professional jewelry designer, especially if you are planning to incorporate any rare gemstones or other unique materials.
The Flowers
Before you start talking to florists, take some time to figure out what you like, including flowers, arrangement styles, and other details. Although color and floral varieties are what brides tend to think of first, you'll want to consider other aspects of your ideal bouquet, including its size, shape, fragrance, and finishing accents such as ribbons—and a superb florist like Abloom can help ensure that the scale and style of your bouquet is in tune with your overall appearance. The decisions you make will set the tone for other flowers as well, including the blooms for the wedding party and venue.
Timing tip: The best time to begin thinking about bridal flowers is after you've chosen your gown and venue, as this will allow you to choose a bouquet that harmonizes with the wedding's mood and motifs. It is recommended that you book a florist 6 to 9 months in advance—but the most popular wedding florists fill their schedules 12 to 18 months ahead of time, so if you have your heart set on a certain look, book as soon as you can.
The Photos
After putting in so much effort into planning and executing your event, you deserve to relax and enjoy the moment during your big day. Thankfully, your wedding photos will have all of it documented, allowing you to relive your wedding day at your own pace so you can appreciate the little things you may have missed in the whirlwind of the day. These images will help tell the story of your special day, from the moment you begin to get ready, all the way up to the "grand exit" or send-off at the end of your reception.
Your bridal portraits will capture the details of your whole look, from your glowing smile, to the lace of your dress or fabric of your heels. A professional photographer who specializes in weddings and portraiture such as Wertman Photography understands that the bride is the star of the day, the center of attention, and will use their expertise to capture important, intimate moments for you to hold onto forever.
Timing tip: Aim to secure your wedding photographer as quickly as possible at least a year before your big day if you want to ensure you get the best possible photos.
The Look
The season and time of day of your celebration can help inform your bridal hair and makeup. Your venue and color palette can also inspire which hues would look best. Consulting a beauty professional such as Glam Bridal Beauty can help find what will best flatter your skin type, as well as your hair length, color and texture. Get ready to transform into the blushing, beaming bride you deserve to be.
Timing tip: We recommended booking your "glam squad" six to ten months in advance of the wedding date. It's also a good idea to have a trial run/rehearsal of your look 1-3 months prior so you'll be able to plan any necessary haircuts or coloring before your wedding date.
The Glow
All eyes will be on you, so this is the perfect time to invest in looking your absolute best. Whether you're a bride, a bridesmaid, or the mother of the bride or groom, there are many options to help you put your best foot, face, and body forward for your wedding day. You deserve it, after all!
From professional medical-grade skin treatments to transformative surgical procedures, a team of qualified aesthetic experts like our team at Plastic Surgery Services can help you achieve the look of a lifetime. During your complimentary consultation, we'll evaluate and consider various particulars and factors relating to your skin and anatomy, your lifestyle, budget, and even the time of year you're getting married (and honeymooning!). We'll make personal recommendations for treatments and products to address your concerns and provide you with optimal results.
Timing tip: Schedule your consultation at least 1 year in advance of your wedding date. That way you'll be able to plan just the right treatments and timing to meet your aesthetic goals. Another tip? Don't put off scheduling your appointment because you have too much to do. Some treatments are extremely quick and can be performed during your lunch break or between other wedding-related tasks like venue-shopping or cake-tasting.
Timing Your Transformation
Wondering what procedures you should get and when? Here's our summary!
As Soon as Possible
It is never too early to start a physician-recommended at-home skincare routine. Not only are professional medical-grade products a great way to maintain your results between treatments, they also boast clinically proven results and safe ingredients. You will want to start your new skincare regimen at least one month before your wedding day, as your skin can take some time to acclimate to new products.
5 Months Before You Say "I Do"
No matter how fit you are, certain areas of excess fat can make an appearance due to genetics and the natural process of aging. Kybella™ is a minimally invasive injectable solution that permanently eliminates stubborn fat under the chin and along the jawline with just a few easy treatments. While most patients are happy with their results after just two to four treatments, up to six treatments may be performed one month apart.
3 Weeks Before the Big Day
A great way to get a healthy glow is with professional skin resurfacing. For brides, chemical peels yield great results with minimal downtime. They are a perfect option for getting rid of old, dull skin and revealing healthier, smoother, and more radiant underlying skin. Because peels come in varying intensities and what works for you will depend on your unique concerns and ultimate goals, make sure to give yourself around three weeks to heal and experience the full benefits of treatment.
2 Weeks Prior to Your Wedding
If you would like to smooth away fine lines or reduce expression wrinkles in the upper face, injectable treatments like BOTOX®, Juvederm and dermal fillers are a quick way to achieve great results. We also offer safe lip enhancement, so you can prepare to smile with fuller, more luscious lips. Treatment typically takes no more than 20 minutes, is very comfortable, and you'll begin seeing results within just a few days.
1 Week Before the Event
The HydraFacial® is a great way to ensure you are glowing and radiant on your big day. This gentle treatment hydrates, exfoliates, cleanses, and delivers antioxidants to your skin—and it takes only around an hour to get glowing skin that looks and feels amazing.
Let us help you prep for your big day! Dr. Henry F. Garazo is a board certified Frederick plastic surgeon serving Washington and Frederick County, Maryland and surrounding areas. He and his team of aesthetic experts offer a full range of cosmetic procedures for the face, breast, and body, as well as rejuvenating non-surgical treatments to leave you feeling beautiful and pampered leading up to the big day.
To learn more, schedule your consultation by calling 301-791-1800 or contacting us online.