Who is qualified to offer injectables? Plus, how to choose a provider for your Botox or filler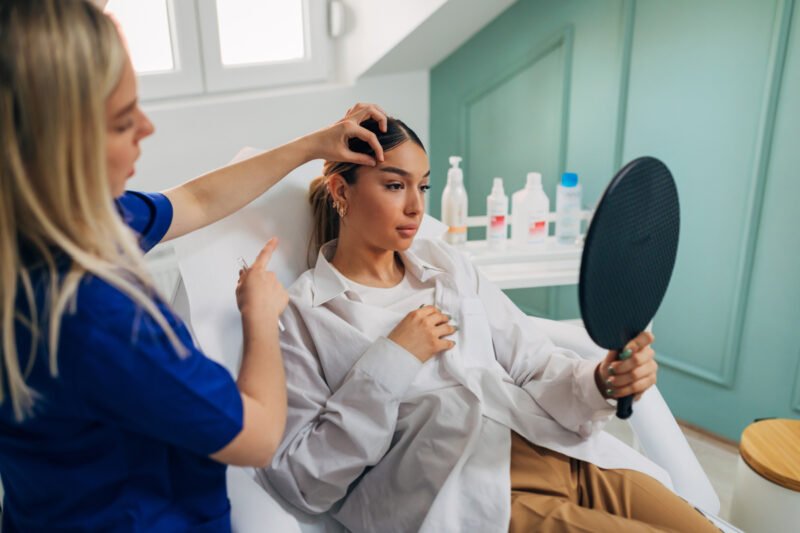 It seems like everyone gets BOTOX® these days, doesn't it? Indeed, more than 4.4 million Americans had the wrinkle-reducing injections performed in 2020 alone. Many of us are getting this quick fix on our lunch break and returning for touch-ups every few months, making it an everyday part of our lives and beauty routine. But as normalized as injectables have become, choosing an injector isn't a casual decision.
When you decide to get either Botox or filler, you'll have a number of options, from the dermatologist's office to your local medspa. Plastic surgery offices, like our practice in Hagerstown, also offer these treatments. But who is most qualified to offer injectables?
Who can perform injections?
Nurse practitioners (NP), physician assistants (PA), nurses (RN), and physicians (MD) can legally offer injectables. Laws around cosmetic injectables vary state by state, so a cosmetic nurse injector may be required to work under the purview of a physician in many states, for example.
Unfortunately, a medical background doesn't guarantee that your provider is fully versed in the nuances of using injectables to achieve beautiful outcomes, nor does it necessarily mean that they are prepared to safely offer injectables. Achieving a beautiful result with Botox and fillers also requires special skills and knowledge, including:
A detailed understanding of facial anatomy and physiology
An understanding of each of the wide variety of injectable products on the market (i.e. Juvéderm® Voluma vs. Restylane® Kysse, Jeuveau® vs. Dysport®)
Extensive experience with cosmetic injection techniques
To make sure your provider is an injectables expert with the above skills, look for these pieces of evidence:
Medical credentials: Nurse practitioners, nurses, physician assistants, and doctors all have the basic credential to allow them to legally perform injections (sometimes with other caveats), so look for an appropriate medical degree first and foremost.
Dedicated injectables training: Injectors should be specifically trained in neuromodulator and filler, period. There are a number of ways that your provider could receive this training, i.e. through internships, fellowships, or shadowing other injectors. These ancillary skills are usually sought after traditional medical education, so ask detailed questions to learn more about who they learned from, and how long they spent honing their skills.
Positive reviews: Reviews from an injector's previous clients give you another layer of security; look for happy patients who received the same treatment you desire.
Before and after photos: Do not be satisfied with product manufacturer photos alone! Before and after photos are a highly useful tool for assessing your specific injector's caliber of care and aesthetic outcomes. Medspas or dermatology practices will often post before and after galleries of their own patients on their website, but you can likely see more photos of previous patients during a consultation. These will also be useful when it comes to describing your goals with your injector.
Social media photos & videos: Many injectors are making use of their Instagram and TikTok accounts to showcase the excellent results they are able to achieve for patients. These may be very useful for you as a patient in finding an injector who shares your aesthetic taste. However, look at these "galleries" with caution: lighting, angles, and other photo and video editing tricks can have a strong effect on what you see.
When you're looking at before and after photos on social media, keep in mind that it is quite rare that social media influencer injectors show the long-term results of their Botox or filler after swelling has subsided and results are final (about 2 weeks out). In our online before and after gallery, we are careful to use consistent lighting, backgrounds, timelines, and poses to show our injectable and surgical results in a fair light that gives patients a true sense of what they can expect from treatment.
Why should I choose a plastic surgeon for my Botox and filler?
Choosing a board certified plastic surgeon for your injectables means you'll be receiving treatments from a highly-skilled aesthetic specialist who has devoted their career to achieving attractive outcomes for their patients. A developed eye for balance and proportion and a skilled, steady hand are paramount to performing cosmetic plastic surgery procedures, and they make plastic surgeons extremely well-prepared to offer cosmetic injectables.
Moreover, plastic surgeons have specific training in facial plastic surgery, meaning that they will have a much deeper understanding of the underlying anatomy of bone, muscle, fat, and skin. This is key as your plastic surgeon is considering how Botox in certain muscles affects your facial expressions, as well as how to work with your natural skin texture and contours to give you beautiful results with filler.
Board-certified plastic surgeons have facial surgical training, a developed eye for aesthetic balance, and access to legitimate injectable products.
Patients also find that it gives them greater peace of mind to work with a doctor. Working with a board certified plastic surgeon will also ensure that you're receiving injections with authentic products. (Many states require a physician to collaborate with nurses or other medical professionals in order to offer FDA-approved injectable products for their practice.)
Another surprising benefit for many patients is having a range of treatment options, both surgical and nonsurgical. Plastic surgeons are uniquely able to look at your concerns, listen to your goals, and advise you on the range of options you have. For example, a patient who comes to us for a "liquid facelift" with Botox and filler will have the chance to talk with Dr. Garazo about the pros and cons of injectables now if they are planning a surgical facelift down the road, and receive expert advice on the best time to have a facelift. Even if you are not ready for surgery now, having a positive relationship with a board certified plastic surgeon means you know who you'll choose when the time comes for more comprehensive rejuvenation.
Schedule your consultation with Dr. Henry Garazo
If you are in the Hagerstown and Frederick area, consider choosing board-certified plastic surgeon Dr. Henry Garazo for injectables. As a plastic surgeon in Frederick, Dr. Garazo performs all injections himself to ensure your safety and optimal results. For a more comprehensive rejuvenation, our aesthetician also offers skin treatment like HydraFacial MD, chemical peels, and dermaplaning. Contact our office by calling 301-791-1800 or reaching out online.