Kim K Gets Botox in Her Neck – Should You?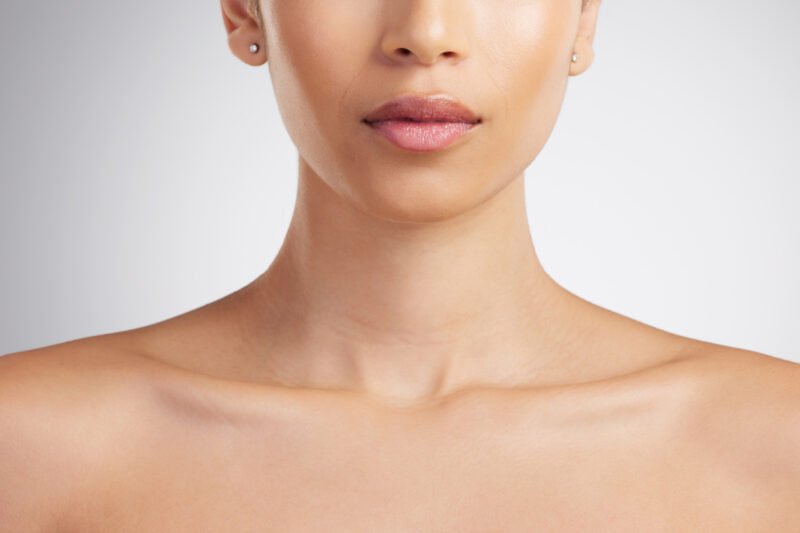 The neck is neglected in the average skincare routine, as well as in treatment plans to improve signs of facial aging, despite being a critical focal point that can betray our age. But fear not—Botox can also be used in this area to help you reclaim your youth and confidence. While neurotoxins are best known for smoothing frown lines and crow's feet, Botox can also be a secret weapon for treating neck aging: it's an option which celebrities like Kim Kardashian swear by.
We asked Frederick plastic surgeon Dr. Henry Garazo to share how this lesser-known application for Botox can help you look younger.
What is Botox?
Botox is an injectable neurotoxin that temporarily reduces muscle activity in targeted areas to help soften lines and wrinkles and prevent new ones from forming. Botox is a household name in facial rejuvenation, and it has held the #1 spot as the most-performed non-surgical aesthetic procedure in the US for years. Its anti-aging effects aren't just limited to the face; Botox-type injectables like Jeuveau and Dysport can be just as effective in restoring youthfulness to your neck.
How does Botox work to rejuvenate the neck?
The neck shows age through sagging skin, horizontal lines, and vertical banding, collectively known as "turkey neck" or "neck bands." These tell-tale signs of aging occur due to a combination of reduced skin elasticity (your skin steadily produces less collagen beginning in your 30s) and platysma muscle activity—a broad, thin muscle that extends from the chest up the neck to the jaw.
The natural aging process can cause the platysma bands to stretch out and droop or thicken and become more pronounced. Weight loss may also exaggerate the appearance of the platysma muscle, and some people may be genetically predisposed to having more prominent neck banding.
When Botox is carefully injected into this platysma muscle, it temporarily reduces the muscle contractions to create a smoother, less-banded appearance and reduces dynamic lines and wrinkles.
Your neck Botox treatment
Your injector will clean the treatment area and precisely inject the neurotoxin in strategic locations based on your unique anatomy to achieve optimal smoothing and anti-aging effects. Any discomfort from the injections is minimal and short-lived, often compared to a quick pinch. A topical numbing cream can be applied before your treatment if you'd prefer additional comfort, but most patients don't find it necessary.
You may notice minor swelling, redness, or bruising at the injection sites following your treatment; however, these effects should fade within a few days. Most patients see noticeable improvement within a week, with full results visible in about two weeks.
Your Botox results will last 3-4 months and can be maintained with quick touch-up injections.
This procedure requires expert precision and deep knowledge of anatomy and should be performed by a board-certified plastic surgeon like Dr. Henry Garazo, who fully understands the intricate details of the facial and neck musculature.
What are the benefits of neck Botox?
With a Botox neck treatment, you'll enjoy several advantages:
Natural-appearing enhancement. When administered by an experienced injector, Botox achieves subtle, natural-looking results. It won't dramatically alter your appearance; rather, it'll reveal a fresher, more youthful version of you.
Non-surgical. Botox is non-invasive and doesn't require anesthesia or recovery time; you can resume your daily activities immediately after the treatment with typically no indication you've just had a procedure.
Quick and convenient. A Botox neck treatment typically takes less than 30 minutes (often called a "lunch break" treatment), making it a convenient option for those with busy schedules.
Who is a good candidate for neck Botox?
Ideal candidates for neck rejuvenation with Botox have visible vertical or horizontal lines with only mild skin sagging on the neck. People with significant skin laxity may require a more aggressive approach, such as a neck or facelift.
During your consultation, your provider will evaluate your skin, discuss your goals, and determine if neck Botox is the most effective treatment for you.
Complementary non-surgical treatments to have with neck Botox
Many patients who get this treatment often choose complementary treatments for their neck and face to achieve a more natural, harmonious appearance, as both the face and neck should ideally experience the same level of rejuvenation. Your injector may recommend adding these options to maximize your results:
Experience all that Botox has to offer in Hagerstown, Maryland
Are you considering a Botox treatment for your neck, or want to learn more about options to rejuvenate your neck appearance? Dr. Henry Garazo serves men and women in northeastern West Virginia, southern Pennsylvania, northern Virginia, and western Maryland, and he will provide honest, comprehensive advice to ensure you receive the safest, most effective treatment tailored to your needs. Schedule your free consultation by calling Plastic Surgery Services at (301)791-1800 or fill out our online form today.